yawg07 wrote:
Come on! I'm surprised there isn't one of these here.
I KNOW that people out there have all Japanese or all-foil EDH decks.
Show em off!
My first pic would be what inspired me to build Dakkon Blackblade in the first place ...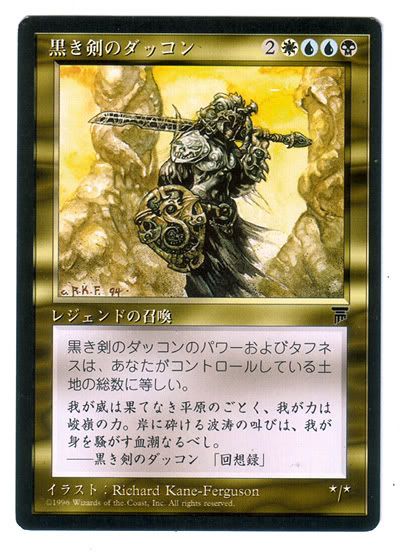 $3 baby!
I pimp my decks where I can, especially foils, but I avoid non-English cards whenever possible out of personal preference, mostly for clarity of what they do. Alas, my general Captain Sisay is a foreign foil because Simon was freaking awesome enough to
give
me one - and hence a reason to build a Sisay deck. Ditto for my Zhang Fei - he is Japanese nonfoil, but I had a hell of a time just finding ANY Zhang-Fei at any price because P3K isn't exactly laying all over unless it's Imperial Seal or something that sees Vintage play and hence has a secondary EBay market. My Moat is Italian because it was dirt cheap and in great shape that way. All other generals are foil except Nebuchanezzar.
Well, other than that, spread across decks I've got various stuff. Ghost Council has my foil Vampiric Tutor, my Impereal Seal and my signed Grim Tutor. My Savra deck has The Abyss, Diamond Valley, and Bazaar of Baghdad in it. Jhiora has my Beta Sol Ring, Beta Mana Vault, Beta Wheel of Fortune and the foil Mind's Desire of sentimental value I opened in the first full box I bought for myself (my first foil rare, period, and the card that sent me down Johnny road). Nebuchanezzar has my Alpha Demonic Tutor and my one Mana Drain with the artist signature - I'll probably put an unsigned Drain in Dromar. I have a Forcefield in my Tsabo Tavoc deck. Borborygmos runs Berserk. I wish Library of Alexandria were legal - I had two, sold the unsigned one a while back, thinking I only play singleton formats anymore. Now my signed one does nothing but look pretty in a safe. I sold my signed Timetwister in the same sale, and that
is
legal in this format (and would go into my Jhiora deck to boot). Big doh. That deck doesn't run
quite
enough artifacts to justify getting a Mishra's Workshop for it.
Pretty much other stuff I have is scattered foils and earliest edition if I can (although I am very fond of 10th in many cases due to the new black borders). All of my non-snow basics must be foil in all of my decks, hand-picked for my favorite art. I dont have an all-foil deck, and I don't know if I will - that seems awfully time consuming, expensive, and make me ask "which deck?" and do dumb stuff like get beta duals for it, which would
really
not be worth th pimp/cost ratio.